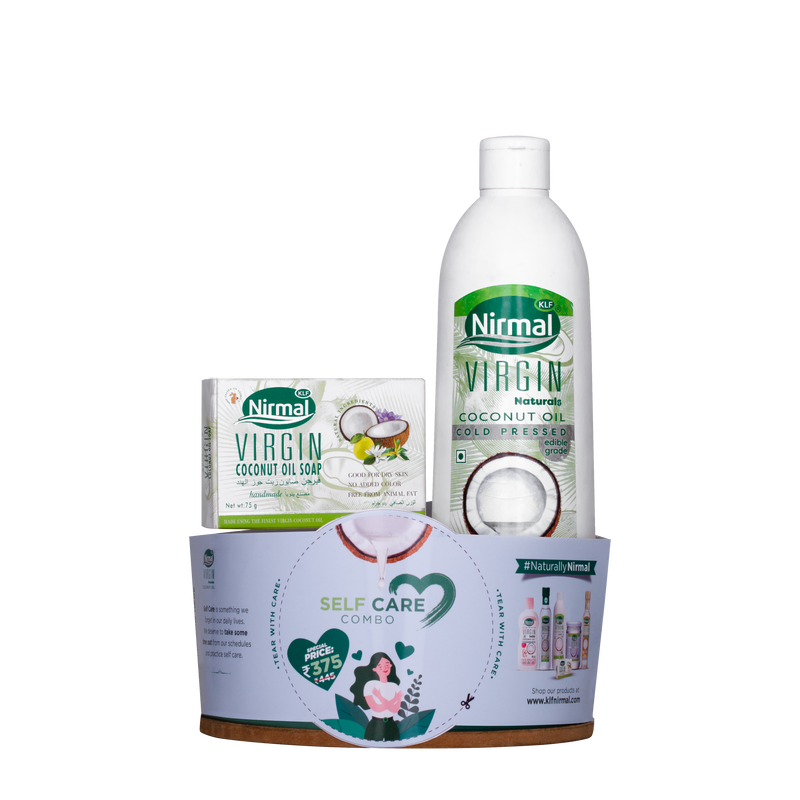 KLF Nirmal Self Care Combo Pack ( 400 ML Virgin coconut oil & 75 gram Coconut Soap )
• Use of fresh coconuts: Made using fresh and natural coconuts, the Virgin Coconut oil and Coconut oil soap in our combo brings to you double the goodness of coconuts.
• Cold-Pressed  : Ensures the oil  retains all its nutrients and minerals intact ,and preserves  the natural aroma of coconuts, this self-care combo provides everything related to 'care & wellness' to you!
• Works as a natural moisturizer: For your daily skincare routine, the Virgin Coconut Oil in our combo helps soothe, condition and nurture the skin through its moisturizing properties. 
• Free from chemicals: Our Virgin Coconut Oil is clinically tested to keep hair soft & frizz-free. Wherein, the Coconut oil soap is cruelty-free, making it safe to use.  
• No added colours or fragrances: We use only fresh and pure coconut goods with no added colours and fragrances, making it an enjoyable experience for the ones using it.

A wellness and self-care combo!  

KLF Nirmal Naturals Cold pressed Virgin coconut oil 400 ML +  Virgin Coconut oil soap 75 Gram 
With hustle culture being a new normal for youth and adults, self-care and personal wellness have taken a backseat. Considering that, our KLF Nirmal Virgin Coconut Oil
Self Care Combo is a constant reminder to make it a priority with our pure and natural coconut-infused products.  For example, our Virgin Coconut Oil can act as an all-in-
one skincare product. You can use it as a makeup remover and take care of dental health with oil pulling, as well as a lip hydrator after a long office party. On the other
hand, our Virgin Coconut Oil Soap is best suited for people with sensitive skin because it's handmade, natural, and makes the skin super soft and moisturized.  
  
What makes our Self-care combo even better?  
  
The extracts of desiccated coconuts added in the combo through the cold-pressed technique make our product natural and unique. Also, the natural scent infused in the
Virgin Coconut oil soap from our combo can be used as a spa treatment after long travels or gently massage your head with our Virgin Coconut oil to add a new perspective to your life. Even better, this Virgin Coconut Oil can also act as a deep sleep oil; that one can apply on arms, legs, back or stomach and gently massage before sleep.
In stock