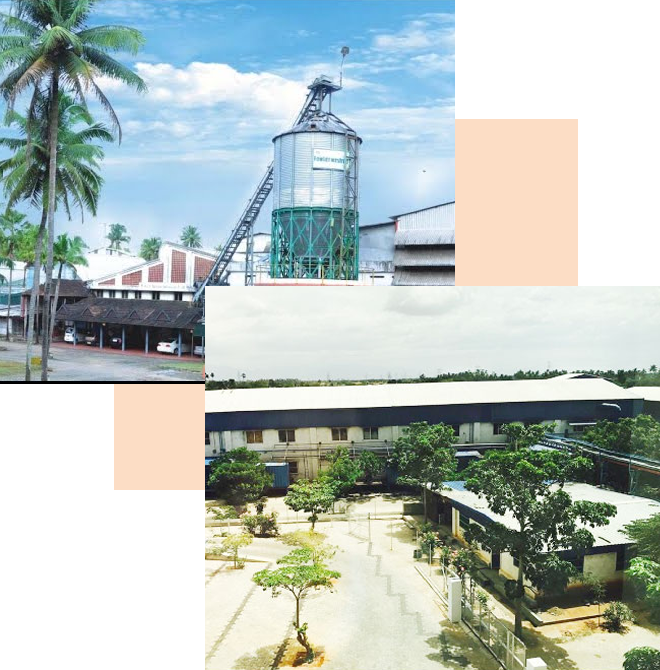 K. L. Francis introduces Oil Milling in Irinjalakuda, Kerala.
K. L. Francis becomes the President of The Coconut Oil Millers Cooperative Society, the fountainhead of many changes in the field of coconut oil milling in the state.
K. L. Francis is appointed the Founder Managing Director of Kerala Solvent Extractions Limited (KSEL). KSEL is a BSE listed company, with a current revenue of over Rs.1000 crores annually.
K. L. Francis advised his sons to start with a rented mill to gain experience & expertise in oil milling.
KLF sets up an oil mill in Irinjalakuda with a 12 MT capacity per day.
KLF Industries increases the installed capacity to 40 MT per day.
For the first time in India, branded coconut oil is sold through tamper-proof vending machines under the KLF brand name.
To retain consistency, quality, aroma and color of the oil, KLF creates an indigenous process, which is introduced to the world as VSIC technology for milling coconut oil later on.
KLF starts its Export Business.
Increases production capacity to 60 MT per day.
KLF installs Gingelly / Sesame oil plant in Irinjalakuda.
From a partnership firm, KLF becomes a Private Limited company under the name of KLF Nirmal Industries Pvt. Ltd.
KLF Nirmal Industries receives the Best Exporter Award from the Government of India.
KLF achieves 10,000 MT sales of coconut oil.
KLF sets up a 20 MT per day coconut oil plant in Perundurai, Tamil Nadu.
To cater to the growing & diverse demands of the customers, KLF bifurcates its coconut oil product portfolio into 2 diverse brands. KLF launches Coconad a brand for edible coconut oil & products, while Brand Nirmal focusses on hair & skin care.
KLF sets up an office in UAE to manage its Export Business.
KLF increases its combined installed capacity to 100 MT per day
KLF commissions the Virgin Coconut Oil production facility using Cold-press technology in Perundurai, TamilNadu.
KLF gets a capital investment from 'BanyanTree Investment Group', to hasten the expansion and growth plans.
KLF Nirmal Industries becomes the largest manufacturer of Cold-pressed Virgin Coconut Oil in India.

KLF Launches its own D2C ecommerce website delivering across pan India.
KLF's Tamilnadu Factory makes shift to Green energy for its power requirement.
International Coconut Community ( ICC ) A UNESCAP Intergovernmental Organization established in 1969) has awarded KLF Nirmal Industries , Kerala Best coconut Industry Award ( Second Place )