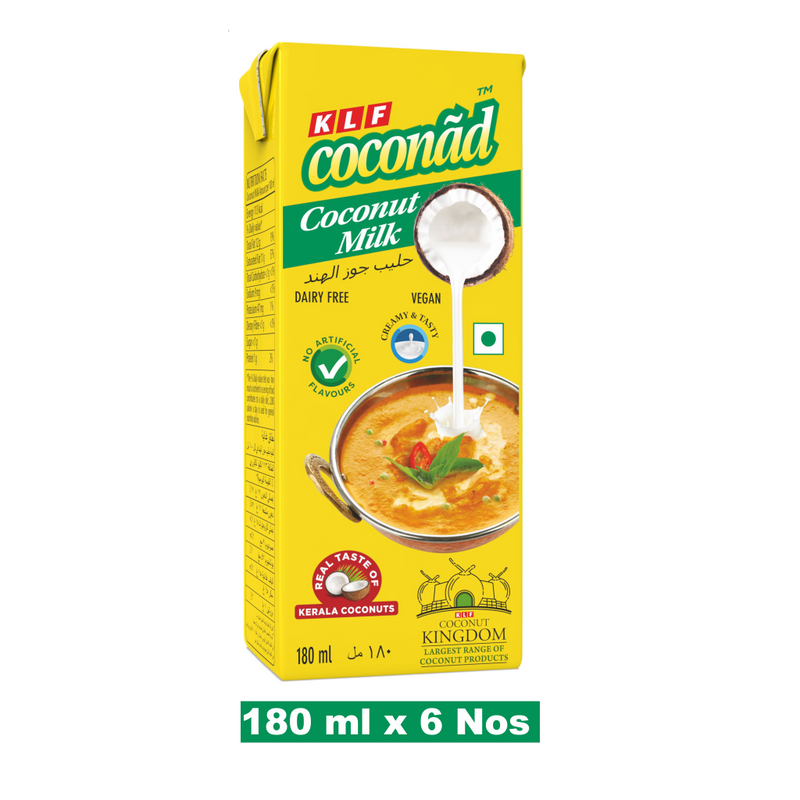 KLF Coconad Pure Coconut Milk (Vegan), 180ml ( Pack of 6)
KLF Coconad Vegan Coconut Milk is rich & creamy with authentic coconut aroma and flavor.
Contains over 12% natural coconut fat and is a good source of vitamins and minerals.
Pure and no artificial flavors are added
Ready to consume coconut milk. Can be consumed directly also by the lactose intolerant.
Packaged in a modern hygienic factory using a 6 layer tetra pack to retain real flavor & taste for a long time.
Can be used for preparing all coconut based dishes - curry, gravies, rice, payasam and more
Made from Kerala Coconuts.
  KLF Coconad Coconut Milk is pressed from fresh, ripe coconuts and is processed & packed hygienically. Produced by pressing the white flesh of freshly harvested coconuts, it contains 12% natural coconut fat and is a rich source of vitamins and minerals. This rich, creamy and consistent Coconut milk is a must-have ingredient for cuisines that need a splash of coconut flavor. Shake well before use. This product may naturally solidify when cold.
In stock