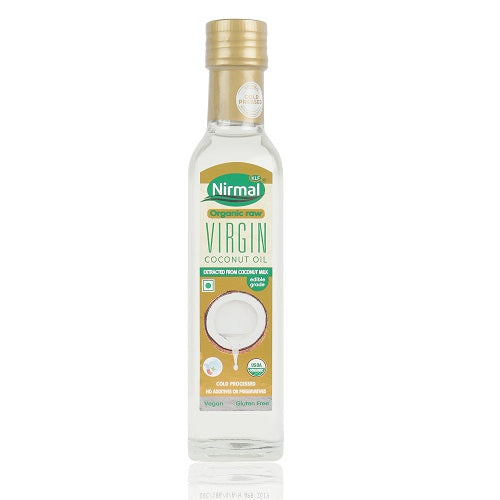 KLF Nirmal Organic Virgin Coconut Oil - 500 ML Glass Bottle
100% pure RAW Organic Cold Processed Raw Virgin Coconut Oil
USDA Organic Certified Cold Processed in a Glass Bottle
Glass Bottle preserves the natural aroma & nutrients better
RAW Organic VCO is extracted from fresh grated coconuts, Cold Processed to extract coconut milk and centrifuged to separate oil from milk without heating
Contains No Additives or Preservatives, 0% Trans-fat, 0% Cholesterol.
Good for heart health, weight loss and fat loss \nLight and thin with a mild aroma of fresh coconuts.
Suitable for salads, cooking and for a range of hair & skin care benefits and applications.
In stock
Wholesome benefits of Organic Virgin Coldpressed COCONUT Oil Specially packed in Glass Bottle
Received your shipment in excellent plastic air-bubble wrapped packing for each glass bottle filled with Organic Virgin Cold pressed COCONUT Oil. My whole family is getting marvelous medicinal benefits of Your Super pure Virgin Organic Coldpressed Coconut oil especially packed in glass bottles. Proud of your commitment to maintain highest standards of GMP!
Dr. Jayant Subhedar Ratlam